Photo taken by my father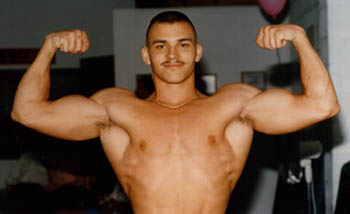 Well, here I am, in all my glory. Sorry, I just had to throw this one in there. Besides with me being the one who runs the camera around here, I don't have many pictures of myself. This is me a couple years ago, in the body building days.

My name is Joshua Hearn and I am 24 years old. I'm originally from Coos Bay, Oregon but now reside in Huntington Beach, California. I recently moved here from Oroville, CA. I graduated from CSU Chico with a B.S. in Mechanical Engineering. I am now a graduate student at UC Irvine in the Mechanical and Aerospace Engineering department.

My other interests are photgraphy, of course, wood working, off-roading, and digital arts (mostly Photoshop).

As for my other half, well, here she is. Her name is Julia and you can visit her on the web at Julia's Place. We have been together for just over six years now and she's the love of my life! She's a Native American from Oklahoma. Prettiest thing to ever come out of the Mid-West. The photograph was taken at a huge public rose garden in Portland, Oregon. There's lots more pictures of her in Julia's Gallery.

BTW: Don't forget to stop by my Guest Book and tell me about yourself. I always like knowing who's out there.
---


---
This page has been visited
times.